手描きアニメを活かすセルルックパイプラインの可能性と課題とは
The possibility of cel-look pipeline and challenges to take advantage of the hand-drawn animation
(株式会社ポリゴン・ピクチュアズ / スタジオフォンズ)

(Polygon Pictures Inc. / Studio Phones)

この資料は「映像制作パイプラインとアーティストのテクニック 7」への参加者を想定し、本資料は会合後にディスカッションされた内容をふまえ、課題を整理し会合を振り返るかたちで記載しています。
This document has been prepared with participants at "Film Production Pipelines and Artist Techniques 7" in mind, and has been written after the seminar, on the basis of the things discussed, in order to consolidate issues raised and to take a retrospective view of the seminar.

translated by PPI Translation Team

■概要

■Overview


今回の会合では、各社のセルルック表現に関する多様な取り組みが紹介され、多様化するメディアへの対応の難易度の向上や、海外展開も視野に入れた堅牢な制作体制の確立などに関する様々な工夫や試行錯誤が解説されていました。
また、各社の連携性を必要とする現代の多様化したクライアントの要望などを踏まえ、他分野での情報リテラシー向上への取り組みに合わせていく必要性や、グローバル化するクライアントへの対応としてのスタジオ内のインフラ運営の確立の重要性などが改めて認識されていく会合となりました。
この資料では、会合中に紹介されたセルルックCGにおける背景美術面での現在の各社の試行錯誤の課題紹介を始め、各社の強みのある制作スキルを活かしつつ、連携のためのインフラ構築へのアイデアなどもとりまとめていくかたちで紹介し、今後の参加各社の社内変革への一助となるような資料として残していけたらと思います。



At this seminar, a variety of initiatives at each studio related to Cel-look depiction were introduced, and elucidation was given on strategies or trial-and-error processes that pertain to such things as improvements to the difficulty level of addressing media diversification and the establishment of robust production systems that take overseas expansion into account.
Also, this seminar brought about a renewed awareness of the necessity of things like conforming to initiatives to improve information literacy in other fields, or of establishing internal studio infrastructure operations as a way of addressing globalized clients, taking into account the demands of modern diversified clients requiring coordination between studios.
In this document, we should like to provide an introduction to and summary of ideas for infrastructure architecture for the purpose of coordinating while also making full use of the production skills that are the strengths of each studio, beginning with an introduction of the trial-and-error challenges each studio currently faces regarding matte painting as used in Cel-look CG, a topic raised during the seminar; we hope that this document will provide support to internal innovation hereafter within participating studios.


■メディアの多様化とそこでの変化

■Media Diversification and Accompanying Changes



多様なメディア展開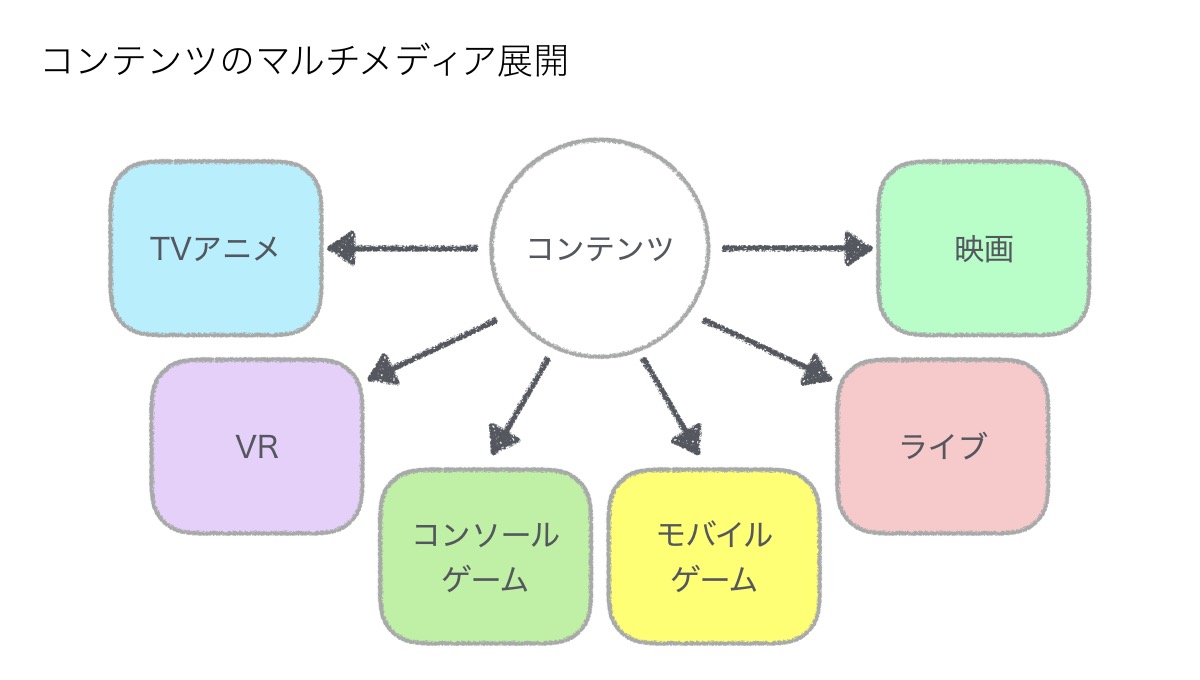 Expansion in multi media


We found no significant differences between the present circumstances that each studio described and the information in the documents provided in advance.
However, a large number of concrete challenges were identified by studios which had made reference within a given range to the preparatory documents regarding internal infrastructure architecture at studios unaccustomed to engineering, and we decided to prepare this post-seminar document encompassing these things.
Given the fact that each studio referred to the advance documents and came prepared with strategies, at the end of this document we have consolidated these strategies into an infrastructure architecture proposal which may serve as a draft proposal for further innovation taking into account the current situation of each studio, in an item called "One Pipeline and Infrastructure Suggested by the Seminar Session".

Cel-look CG and matte painting
https://a-film-production-technique-seminar.com/fppat/materials/ppi_phones_cellook_matte_painting/index.html

Building internal infrastructure in studio not familiar with engineering
https://a-film-production-technique-seminar.com/fppat/materials/ppi_phones_internal_infras_not_engineering/index.html


■セルルックCGにおける背景美術の導入(導入への背景)
■Incorporating Matte Painting into Cel-look CG (circumstances of introduction)

CGによるセルルック表現においても、手描きアニメと同様に、背景美術を活用して映像制作を行なっていくスタイルが主流となっていることが会合での各社の講演から見ることができました。
しかしながら、生産性を上げていく意味での3DCG導入は様々な方面から各社トライアルを重ねており、レイアウトなどプリプロ工程での生産性向上に3DCGでの一定の自動化を組み込んだ自動設定の模索をはじめ、現在は部分的な導入にとどまる3DCG背景アセットの導入に関するレンダリング技術への工夫に関する試行錯誤や、3DCGからのAOV出力からの機械学習での輪郭線抽出や彩色及びプリプロ時でのバリエーション生成技術の模索、背景美術スタッフへのドローイング指示のための効果的な「原図」と呼ばれる指示データの生成を含め、想定以上に3DCGを活用した各社の高度な試行錯誤の様子が紹介されていました。

これらの背景に共通するのは、旧来から長い年月をかけて熟練されての背景美術のワークフローの良さを維持したままの生産性向上と、海外大型案件を扱うスタジオに求められる確立されたインフラ構築と運営面での確かな体制作りとも言え、会合中も、厳しさを増していく海外大型案件のインフラ運営への要求事項への各社の質問が相次ぐかたちとなっていました。




Judging from the talks given by a number of studios at this seminar, it has become clear that the use of matte painting in image production has become the predominant production approach in Cel-look-style CG, as in hand-drawn animation.
However, trials in adopting 3DCG as a way of raising productivity have been repeatedly performed at various studios from a number of different approaches, starting with exploration of automated settings which incorporate a level of automation for improving productivity in pre-production phases such as layout, and explanations were given of ways in which each studio is using high-level trial and error to make even greater use of 3DCG than anticipated, such as trials pertaining to strategies for rendering techniques related to implementation of 3DCG background assets, which are limited at present to partial implementation, or using machine learning for contour extrapolation or coloration from 3DCG AOV output, as well as explorations of variation generation techniques in the pre-production phase, not to mention generation of effective instructional data called "genzu" for giving drawing guidance to matte painting staff.
What is shared in the background circumstances of all these things can be said to be improvements in productivity that nevertheless maintain the merits of a matte painting workflow that has been painstakingly built up over a long period of time, and robust infrastructure architecture and the reliable creation of administration systems expected of studios which handle large-scale overseas projects; during the seminar, each studio posed question after question about the demands made on infrastructure operation for large-scale overseas projects, which are becoming increasingly demanding.

Key Points Including Infrastructure on Large-Scale Overseas Projects
 - Storage system scale and performance
 - Render farm scale (and presence or absence of GPUs, etc.)
 - Distributed processing method on render farm
 - Data availability and back-up system
 - Number of workstations, etc., and OS used
 - Classification of software used in each phase of production
 - Network connectivity within the studio (network configuration within intranet, etc.)
 - Internet connectivity (throughput to overseas destinations, etc.) and main system tools for pipeline
 - Pipeline system design
 - In-house tools for digital image creation
 - Coordination with production management
 - Check and review flow and approval process
 - Data format and data flow in each phase of production
 - General security policy at studio
 - Limitations and auditing of internet access
 - Limitations and auditing of asset data access
 - Security agreements when partnering or outsourcing
 - Security of outside data transmissions (encryption or protocols)
Wide-ranging check items including assessments from clients


■セルルックCGにおける背景美術の導入(ワークフロー面)
■Incorporating Matte Painting into Cel-look CG (workflow issues)

前項で記載した部分的な3DCGの背景アセット制作に関連して、各社による手描きの美術背景(マットペイント)とCGでのワークフローの融合を模索していく様々な試みが紹介されていました。
背景美術の素晴らしさを意識しつつ、CG主体のワークフローにおいて手描きの2D背景美術を利用する理由の大きな要因として新たな表現手法の模索という側面が今回の各社の講演からは強くあらわれており、従来の手描きセルアニメのスタイルを目指しつつも、CGの導入によりCG特有の表現を模索していく、そこに加えて、CG特有の表現の導入から新たな手書きのスタイルの模索も進めていくなど、生産性向上に留まらない各社の独自の表現手法の確立を目指した講演内容がワークフロー面での変革としても顕著に出ていたように思われました。

複雑なライティングと雨、3Dキャラクター、背景美術を組み合わせた例

上記の原図

© Gamon Sakurai, KODANSHA/AJIN Production Committee. All Rights Reserved.


手描き背景特有のライティング技法であったり、シルエットの柔らかさや自由なパース処理などは、CGが現在はまだ苦手とする表現手法でもありますが、近年はCGでもさまざま工夫がなされ始めており、各社それぞれが自社に合った仕方でそれらを取り入れようと、プリプロ工程を含め、様々なかたちで変革を進めている傾向にあったように思われました。


In connection to partial 3DCG background asset production, mentioned in the prior section, explanations were given of various endeavors by each studio to explore amalgamation of hand-drawn matte painting with CG workflows.
It became decidedly apparent from the speeches given this time by each studio that, in continuing awareness of what makes matte painting special, exploration for new techniques of expression has emerged as one major factor in the reason for using hand-drawn 2D matte paintings in a workflow in which CG is the core component, and it seems to us that innovation in workflows was also strikingly apparent from the content of the speeches which aimed for the establishment of original techniques of expression at each studio not limited to improving productivity, including such things as continuing to explore the expressive possibilities unique to CG via its implementation, in addition to continuing to explore new hand-drawn styles as well via the implementation of visual styles unique to CG, all while endeavoring to attain a traditional hand-drawn cel anime style.

An example combining complex lighting, rain, a 3D character, and matte painting

The genzu for the above

© Gamon Sakurai, KODANSHA/AJIN Production Committee. All Rights Reserved.


Things such as unique lighting techniques for hand-drawn backgrounds, softer silhouettes, or free manipulation of perspective are expressive techniques in which CG still lags behind at present, but in recent years, a variety of creative approaches have been adopted in CG as well, and it seems as though there is an ongoing tendency toward innovation in a variety of forms, including in the pre-production phase, as each studio works to incorporate methods appropriate to its own needs.


■セルルックCGにおける制作体制面での変革など
■Innovations in Production Systems for Cel-look CG

手作業重視での旧来からの制作体制の生産性向上とロスの軽減という目的のもと、各種制作上の指示や進捗管理、プリプロ工程でのトライアルを含むアーティストの試行錯誤全般でのCG導入への試みなどが各社で盛んになって来たように思います。
前項でも述べた背景美術スタッフへのドローイング指示のためには、「原図」と呼ばれる指示データを、背景美術が制作で扱う全てのシーンで必要となりますが、それらを事前に効率的に背景美術スタッフに提供することへの工夫を始め、旧来は手作業でこなしていたほとんどの作業への見直しを進めていく傾向もあったように思われます。原図作成への支援ツールなど多くのスタジオで共通の工夫もありましたが、会合中は、単なる制作の効率化だけでなく、今後のスタジオの成熟度を上げていく意味でのインフラ構築を含む変革に関する各社の意識の高さも見られました。


It seems as though attempts have begun to build momentum at various studios toward implementing CG via things like general trial-and-error efforts by artists, including giving of instructions, progress management, or trials in the pre-production phase in each sort of production, on the basis of the objective to improve productivity and reduce loss in traditional production systems, which have placed heavy emphasis on manual labor.
As mentioned in a prior section, a kind of instructional data called "genzu" for purposes of giving drawing instructions to matte painting staff is necessary in all scenes making use of matte painting in production, but it appears that there is a current tendency toward reassessing most kinds of work which has heretofore been done manually, starting with strategies to provide this to matte painting staff beforehand in an effective manner. While there are strategies common to many studios, such as tools to support things like genzu creation, the high level of awareness at each studio regarding innovation including infrastructure architecture, meant to continue to raise the level of maturity of the studio hereafter, and not simply to optimize production, was perceptible during this seminar.


■セルルックCGにおける新たな表現手法への挑戦など
■Endeavors Toward New Expressive Methods in Cel-look CG

既に一定のセルルックCGへの効果的なパイプライン構築とそれを支えるインフラ運営を行っているスタジオであるほど、自社のインフラ性能の限界を把握したからこそ挑戦出来る新たな制作手法や表現手法への挑戦や工夫が多く見られていたように思われました。
例えば、一定の制約下でカメラワークの作業を行う必要があるものの、手描きでのワークフローとバランスをとる形で導入された(3Dカメラワークのひとつである)ノーダルパンといったカメラワークに対応するための工夫や、関連して行うコンポジット時のプロジェクションマッピングを効率化するための手法なども、そこに絡めてカラーマネジメントの仕組みやコンポジット作業のプロシージャル面での推進などの試みなど、単一の工夫ではなくワークフロー全般を通しての円滑な生産を備えた新たな表現手法の導入などが進んでおり、参加したスタジオのなかでは、やはりインフラ構築を自社で行い運営していく能力をスタジオで維持するからこそ達成出来ていくワークフローであるという、そのような意見も出ておりました。

DCCツールの3Dノーダルパンカメラから生成した背景美術が必要な領域

背景美術アーティストへの申し送りをペイントオーバーしたもの(原図)

作成された背景美術

コンポジット時での背景美術のプロジェクションマッピング

© Gamon Sakurai, KODANSHA/AJIN Production Committee. All Rights Reserved.


実際のところ、映像制作においての表現手法の模索というのは、各社の目指す表現上の方向性や、スタジオの個性の違いがあるなか、各社が独自の方向性に進む傾向がどうしても生じてしまいます。
しかしながら、各社が他社の表現手法へ敬意を払うかたちにおいて、各社の表現上の能力の違いを組み合わせていくかたちでの連携性などが重要という声もあり、今後も各社が自社の課題や連携性への問題意識を高めていくことで、また新たな表現手法の模索という側面が考えていけるのではないか、そのような意見が多かったように思われました。


To the extent that studios already possess regularized and effective pipeline architecture for Cel-look CG and are conducting infrastructure operation to support it, and precisely because they have a grasp of the limits of their studio's infrastructure capabilities, we felt that we saw a great number of initiatives and strategies toward achievable new production methods and expressive methods.
For example, implementation of things like new expressive methods are progressing to provide, not a solitary strategy, but rather uninterrupted production running through the overall workflow, such as strategies to support a camera move called a nodal pan (one form of 3D camera work) which were implemented in such a way as to strike a balance with a hand-drawn workflow, as it is necessary to do camera work within given limits; or things like experiments such as methods for optimizing a related operation during compositing called projection mapping as well; color management systems related to this; or furtherance of the procedural side of compositing work, etc.; and among the studios that participated, opinions were also shared to the effect that, as expected, this is a workflow that can be achieved precisely because the studio maintains its ability to construct and operate infrastructure internally.

The area in which matte painting is necessary as generated by the 3D nodal pan camera of the DCC tool

A version with instructions to matte artists painted over (genzu)

The matte painting created

Projection mapping of matte painting during compositing work

© Gamon Sakurai, KODANSHA/AJIN Production Committee. All Rights Reserved.


In actuality, it is unavoidable that, in the exploration of expressive methods in animation production, each studio tends to proceed in its own direction, given the individual differences between studios and the stylistic direction in which each studio aims to go.
Be that as it may, opinions were also raised regarding the importance of things such as partnerships taking the form of progressively integrating differences in expressive ability between studios, even as each studio pays respect to the expressive methods of other studios, and it seems as though a large number of people were of the opinion that, hereafter as well, each studio, by increasing its awareness of the issues pertaining to its own challenges and linkages, may also be able to consider aspects of further exploration of new expressive methods.


■セルルックCGにおける各社の表現手法とその連携
■Cel-look CG Expressive Methods and Coordination at Each Studio

数社で違いがある各社特有の表現能力を組み合わせて新たな表現手法を模索していく、これらを達成していく上では、アセットの互換性や長期的に用いていけるアセットへの意識やセッティング管理などが必要になっていきます。
シェーダーを始めプロシージャルに扱う様々なアセットの互換性向上や円滑な連携のためのドキュメント作成などが無い状態では、各社のアーティストが連携しようとしても制作コストが上がっていくという意識のもと、会合中も MaterialXやUSDなどのフォーマットやライブラリなどの話題が多くありました。
平易にはUSDはアセットデータやシーングラフ管理たのめのライブラリで、MaterialXはルック開発やマテリアル管理のためのオープンなフォーマットで、いずれも3DCGでのデータを扱うことを目的として開発されたOSSのライブラリと言われております。中長期的に各スタジオ間で円滑にこれらを導入していくには?という問題提起も多くありましたが、今回の会合特有の課題としては、例えばMaterialXを手描き用ドローイングツール向けのマテリアル管理にも利用することは出来ないだろうか?という声も上がっておりました。つまり、一見すると手描きアニメの分野では活用の機会がないのかと思われたこれらの仕組みに関して、2Dと3Dとのアセットの行き来を意識していくことで、今後の2Dでの新たなツールや機能の展開も視野に入ると思われるであろうし、手描きとCG双方での親和性を高めていくことでお互いの良さを学びつつお互いのテクニックの融合を進めていくことは刺激的ではないか、そのような意見が会合中の話題となっておりました。
2D/3Dのツール間の互換性を高めていくことは既存のソフトウェアでの使用に関しても様々なかたちで議題が提示されており、Photoshopをはじめとするドローイングソフトウェアで3Dのアセットデータを扱う際の、3DCG側とのデータ交換フォーマットとして利用したり、既存のドローイングワークフローとパイプライン全体でのアセットデータの互換性を保つといった意味で、USDを活用していくなどのアイデアも会合中のディスカッションで話題となっていました。

強いて言えば、新たな表現手法への挑戦のためのアセットやその運営の連携性や課題共有という側面が、単なる生産性向上だけの理由ではない点での連携性向上の理由として、会合中は豊かな議論がかわされていたように思われました。

・USD (Pixar)
https://graphics.pixar.com/usd/docs/index.html

・MaterialX (ILM)
http://www.materialx.org


上記は、ソフトウェア間やスタジオ間での標準的パイプラインを念頭に考えた一例となりますが、世界で進む標準化の傾向を踏まえつつ進めて行くと、比較的スタジオ間での連携は進むと思われます。その上で、自社の個性を育む上で脱標準化も進めていくスタジオが存在しますが、バランスを取りつつ、独自性と協調性の二点からパイプラインのデザインとインフラ構築を進めていくと良いように思われます。


Things like settings management or awareness of asset compatibility and of assets used over the long term become necessary in order to explore new expressive methods by integrating the differing expressive capabilities particular to multiple studios and to actualize the same.
On the basis of an awareness that production costs will rise, even if the artists at each studio attempt to work in tandem, in a situation in which documentation has not been generated for seamless integration or compatibility improvement for the various assets, beginning with shaders, that are dealt with when using procedurals, there was a great deal of discussion at the seminar of things like libraries or such formats as MaterialX or USD.
Put simply, USD is a library for management of scene graphs or asset data, while MaterialX is an open format for managing materials or look development; both are said to be OSS libraries developed with the goal of handling data in 3DCG. While a large number of questions were raised regarding implementing these things smoothly between each studio over the mid to long term, a unique issue also raised at this seminar was whether it is possible, for example, to use MaterialX to also manage materials designed for use with hand-drawing tools. In other words, although opportunities for the use of these systems seem at first glance not to be forthcoming in the hand-drawn anime field, given the interchange of assets between 2D and 3D, it seems likely that the development hereafter of new tools or functionalities in 2D may come into view; and during the seminar, opinions were discussed to the effect that, by increasing the affinities between both hand-drawn and CG, it may be stimulating to continually amalgamate the techniques of each, as each learns of the advantages of the other.
As for raising compatibility between 2D and 3D tools, agenda items were presented in various forms regarding usage within existing software as well, and ideas to make full use of USD and so forth when handling 3D asset data in drawing software, especially Photoshop, were also raised as topics during discussions at the seminar, in the sense of preserving compatibility with the existing drawing workflow and overall pipeline of asset data that is used as a data exchange format with the 3DCG side.

If anything, rich discussion took place during the seminar regarding aspects of sharing challenges, operational coordination, and assets used to attempt new expressive methods, in the sense of improving coordination not only for purposes of simply improving productivity.

・USD (Pixar)
https://graphics.pixar.com/usd/docs/index.html

・MaterialX (ILM)
http://www.materialx.org


The above chart shows an example, presupposing a standard pipeline, of usage between software and between studios, and if we proceed on the basis of trends in standardization worldwide, it can be assumed that, relatively speaking, linkages between studios will advance. Based on this, while studios exist which also implement destandardization in order to foster their own individuality, it seems best to strike a balance and to design pipeline architecture from the twin vantage points of individuality and cooperativeness.


■セルルックCGにおける各社の表現手法とその連携(インフラ構築面の難度)
■Cel-look CG Expressive Methods and Coordination at Each Studio (difficulty level of the infrastructure architecture dimension)

会合中、想定以上にアニメ制作のスタジオのこれらの問題意識の高さには参加者全員が驚いていたように思われましたが、一方で、前項で述べた各社の連携性を高めていく上での課題の大きさも数社から指摘が行われていたように感じられました。
それは一つには、ライツ、パテントの管理体制の厳格化向上無しには、現在のグローバル化していく制作要求に対応が出来ないということであり、エンジニアだけでなくアーティストの多くへも高い情報リテラシーを要求するうえ、大規模制作に対応したインフラ構築が可能なスタジオに連携するエンジニアリングに慣れていないスタジオにも、より強固なインフラ構築とスタジオとしての運営体制の確立なしには、連携した上での制作面での自由度が相当に小さくなっていくのではないかという意見が出ていました。

実際、会合後も、数社がこれらのインフラ構築や制作体制での変革面での積極的な問題意識を提起してくださっており、モデレーターとしては、それらに少しでもお応え出来るよう、今後の事後資料制作で何か工夫をしていくべきであろうと思われました。また、想定以上に参加各社が会合の関連資料をもとに意義のある社内変革を進められていらっしゃる現状も確認でき、今後の資料でもう少し幅のある対応も模索していけないかなど、モデレーターの課題も顕著に浮かび上がってきたように思われました。

インフラの管理上のチェック範囲の広がり
https://a-film-production-technique-seminar.com/fppat/materials/ppi_phones_infra_check_scope/index.html


During the seminar, it seemed as though all participants were surprised at how far the level of awareness of these problems at animation production studios exceeded expectations, but on the other hand, it also felt as though several studios were emphasizing the size of the challenges of raising levels of coordination at each studio, as mentioned above.
One of these, according to an opinion presented, is that, without improvement in the strictness of management systems for rights and patents, it is not possible to respond to increasingly globalized production demands at present, and, as a high level of information literacy is demanded not only of engineers but also of many artists, even for studios that are not accustomed to coordinating engineering with studios capable of an infrastructure architecture that supports large-scale production, without a more robust infrastructure architecture and the establishment of an operational system as a studio, it is feared that there will be a marked reduction in freedom of action on the production side as a result of such coordination.

Actually, even after the seminar, a number of studios have proactively brought up issues related to innovation in such infrastructure architecture or production systems, and as moderators, in order to be able to provide at least some kind of response, we decided that we ought to devise a strategy of sorts when creating post-seminar written materials hereafter. Also, we have discovered that more of the participating studios than we had anticipated are basing meaningful internal innovation on the related written materials, and are wondering whether we might investigate ways to slightly increase the scope of what is addressed in written materials hereafter; this and other things seem to have arisen as evident challenges for the moderators.

Expansion of check scope of infrastructure management
https://a-film-production-technique-seminar.com/fppat/materials/ppi_phones_infra_check_scope/index.html


■リアルタイム技術とセルルック表現の親和性の向上について
■IImproving Affinity between Real-Time Technology and the Cel-look Style

リアルタイム処理への各社の関心は幅広く、制作工程及びプリプロ工程での積極的なゲームエンジンの利用に始まり、GPU主体での流体シミュレーションの応用への模索なども始め、ゲームエンジン及びゲーム領域での刺激を得たことでの発展も多くありました。
また会場には、現在のゲームエンジン開発の関係者の参加により技術的に深い知見での各社の工夫への助言なども行われており、映像制作用に内製レンダラーを保持しているスタジオの設計者による輪郭線検出などの自由度に関するアルゴリズムの説明なども行われたことで、旧来のバッチ処理主体でのパイプライン構築や制作を行うことの多かった映像制作分野での今後の展開にも、リアルタイム処理の普及期という印象も強く感じられた会合となりました。


Interest in real-time processing is broad at the studios, and there were a great number of developments out of stimuli received in the game and game engine fields, starting with proactive use of game engines in the production and pre-production phases, as well as with investigations into applying fluid simulation mainly based on the GPU.
Also, at the venue, due to the participation of persons involved in the current development of game engines, advice was given on strategies for each studio based on deep technical expertise, and an explanation of algorithms related to levels of freedom for things like contour detection was also given by the designer at a studio which maintains its own in-house renderer for use in video production, which made it possible at this seminar to form a strong impression that this is a period of promulgation of real-time processing in terms of future developments in the field of video production and for traditional pipeline architectures which have mainly depended on batch processing.


■リアルタイム技術とセルルック表現の親和性の向上について(ユースケース面)
■Improving Affinity between Real-Time Technology and the Cel-look Style (regarding use cases)

メディア展開の多様化により、これまで映像制作主体で発展してきたセルルック表現ですが、最近ではコンソールゲームやモバイルゲームをはじめ、VTuberに代表されるVRコンテンツなどへの展開が広がっています。
これまでは手描きアニメで培われてきた表現技術を、セルルックCGとしての映像制作で活用していくための取り組みが多くのスタジオで展開されてきましたが、近年ではゲームやVRといった分野でもその表現技術の活用が活発化していきています。
ゲームやVRコンテンツなどでは、ゲームエンジンなどに代表されるリアルタイムCG技術を用いてコンテンツが開発されいくわけですが、これまで映像制作で培われたアートディレクションや表現技法を、それらリアルタイムへ応用したかたちの技術開発も多くなってきており、実際に会合内でも映像制作会社がゲームやVRなどのリアルタイムコンテンツ制作を行うようなケースも増えてきたといった意見も出ていました。
一方で映像制作とゲームなどでは計算マシンの違いや扱える計算リソースの違いから、そこで用いられる手法やアリゴリズムも双方異なる点も多く、現在は別々のコンテンツとして制作されることが一般的ですが、アセットデータの共有や表現技術そのものの共有が行えた場合のメリットは高く、今後より親和性を高めていく必要性が強くなってくると思われます。

UE4を使用した背景の制作例

© BANDAI NAMCO Entertainment Inc.

各社の講演では、これらの背景により各社の事情に沿った様々な角度からの意見が展開されておりましたが、全体的に言えることとして、リアルタイム処理とバッチ処理のより良い融合をサーバーサイドで展開していく実践期に入ったことではないかと、モデレーター達は考えております。


Although the cel-look style has heretofore been developed mainly in the context of video production, recently, as a result of diversification in media expansion, there has been a widening expansion in VR content beginning with console games and mobile games, and iconically represented by VTubers. Although measures are being developed at many studios to be able to apply expressive technologies heretofore cultivated in hand-drawn anime within video production in the form of Cel-look CG, in recent years the fields of gaming and VR have also seen an increase in activity in the application of these expressive technologies.
For things like game or VR content, while it is the case that content is developed using real-time CG technology best known through game engines, etc., there are increasingly more cases of technological development in which art direction or expressive techniques earlier developed in video production are being applied to real time, and during the seminar, opinions were shared that cases are actually increasing in which video production studios engage in real time content production such as games or VR.
While there are many differences in the techniques and algorithms used in video production and things like games, due to the differences between each in the machines used for calculation or in the calculation resources that can be handled, and the general practice at present is to produce each as a separate form of content, there are nevertheless great advantages to being able to share asset data or to share expressive techniques themselves, so that the need to increase affinities between these things going forward will be felt more and more strongly.

Example of background production using UE4

© BANDAI NAMCO Entertainment Inc.

In the presentations by each studio, opinions were promulgated from the various vantage points of the conditions at each studio due to these circumstances, but, in the opinion of the moderators, one thing that can be said in general is that this is due to the fact that this is an implementation period for continuing development on the server side of a better fusion of real-time processing and batch processing.


■リアルタイム技術とセルルック表現の親和性の向上について(プリプロ工程から見て)
■Improving Affinity between Real-Time Technology and the Cel-look Style (viewed from the pre-production stage onward)

リアルタイム処理ではインタラクティブ性やプレビュー時のレスポンスの速さが魅力の一つであると思われます。これらを映像制作に用いていくことの意義のひとつは、映像制作時のイテレーション回数の向上を目的とするものが大半を占めており、アーティストが自身のアイデアをよりスムーズに模索する意味での環境作りや、プリプロ全体での模索性の高さの達成という側面が強く出ていたように思われました。
ビジネスの側面からも、今後さらにマルチなメディア展開可能なコンテンツ制作体制が求められていくことが想定されるわけですが、映像制作サイドとしては、旧来のバッチ処理主体で培われた映像制作上でのテクニックをよりよくリアルタイム処理主体でも展開していけるよう模索していく傾向があり、それはビジネスの幅を広げていくというスタジオとしての個性面でも重要な意識となっていたと思われました。つまり、レンダリング計算コストをかけて画像を生成する映像制作と、計算リソースに一定の制約があるリアルタイムレンダリングを行うゲーム開発での、近しい表現結果が得られるような制作技術への需要と同時に、新たな表現手法の模索を行っていくことの双方が重要になって来た、そのように言えるのかもしれないと思われました。



しかしながら、リアルタイム技術を主体としたコンテンツ制作に、旧来の映像制作での制作手法をそのまま持ち込むことは難しいのが現状です。映像制作で培われた演出やスタイル、表現をリアルタイム技術上で実現するには、技術的な課題も多い上、アセット制作上でのポイントも異なる上、アセット管理の方法などもその発想が異なっているのが現状です。
今回の会合には映像とゲームの双方の参加者に恵まれていたわけですが、映像とゲームでのアセットを共通化した場合でのアセット管理や、双方の制作を並行して進めていけるようなワークフローやパイプラインの必要性、プリプロダクション作業における効率化など、今後親和性を高めていける部分もあるのではないかと、次回の会合企画への課題も会合後に次回参加予定者で話し合われておりました。
双方の技術開発を推進していくなかでは、開発コストの増加や、対応できる人材の育成といった必要性も出てくるでしょうし、リアルタイム技術の基盤となるハードウェアの進歩や、新しい表現手法の登場により更に発展してくことが予想されますが、旧来の手描きアニメのケレン味のある表現をマルチメディアとして展開されていく時代になってきたとも言えますので、映像制作とゲーム開発といった異なる技術分野間でのコラボレーションが今後必要不可欠となるのではないだろうか、モデレーター達はそのように考え次回会合の企画を進めて行ければと考えております。


One attraction of real-time processing is interactivity and response speed when previewing. We felt that one side of things which came to the fore was the fact that the greatest significance of making use of these things in video production is in aiming for improvement in iteration number during video production, thus building an environment whose purpose is to allow artists to explore their own ideas more smoothly, or to achieve high levels of exploration in overall pre-production.
While it is true that, on the business side as well, it is anticipated that content production systems geared even more toward multiple forms of media expansion will be in greater demand hereafter, on the video production side, there are trends toward exploring ways of developing video production techniques, which have been cultivated mainly with traditional batch processing, in order to make use instead of real time processing more effectively, and it seems as though this is an important awareness to have in terms of the individuality of studios working to expand their business. In other words, along with demand for production techniques which allow similar resultant forms of expression between video production (which expends rendering calculation costs in order to generate imagery) and game development (where real-time rendering is conducted within fixed limits on calculation resources) it seems possible to say that, for both sides, the exploration of new expressive techniques has become more important.



However, the present situation is that it is no simple matter to incorporate production techniques used within traditional video production into content production that relies mainly on real-time technology. To take styles, depictions or forms of direction that have been fostered within video production and actualize them using real-time technology presents numerous technological challenges, important points in asset production differ, and methods of asset management and concepts behind them also differ at present.
The seminar this time was fortunate to have participants from both video production and games, and certain challenges in planning the next seminar were also discussed after the seminar by person planning to attend the next one, including speculation about areas in which affinities might be increased hereafter, in such things as asset management in the event that assets are made to be held in common between video and games, a workflow which allows both sides to proceed with production concurrently, the necessities of the pipeline, or optimization within pre-production work.
As each side furthers technological development, necessities such as development cost increases or training a workforce capable of addressing this work are likely to emerge, and further developments are anticipated as a result of advances in the hardware which forms the bedrock of real-time technology or the appearance of new expressive techniques, but since we can be said to have entered an era in which visuals with the affectations of traditional hand-drawn animation are being developed as multimedia, the moderators, believing that collaboration between the differing technological fields of video production and game development will likely become indispensable in the future, intend to plan the next seminar accordingly.


■手描きアニメーションスタイルでのパイプラインのデザイン面のアプローチ上の課題
■Challenges in Approaches to Designing Pipelines for a Hand-Drawn Animation Style

限られた期間内での納品を見据えた制作を要求される映像制作上の制作事情を背景に、各社共通の問題として、迅速な社内社外での情報共有のためのシステム構築と、アセット管理を含めた進捗管理システムの確立、柔軟性の高いインフラ再構成とパイプラインそのものの再構成スピードの向上など、主にサーバーサイドでのインフラ構築で実現出来ると思われる課題が、今回の会合中に大きな課題として明らかとなってきました。

参加するアーティストやそのアーティストの作業環境が多様化するにつれ、アウトソース先の監督責任が年々厳しくなる現状を反映して、スピーディかつ的確なスケジュール管理と進捗管理体制の確立と、工程そのものの変更に対応する柔軟な制作計画の変更、予算再計算のための体制作りなど、手書きでの表現手法を活かしつつこれらのパイプラインデザインの厳格化かつ柔軟な変革性や連携性達成というのは、動画配信などの多様化するクライアント増加を背景に、非常に課題として高度なものになっている傾向があったように思われました。



しかしながら、多くの参加スタジオが、その現状を把握した上で変革への体制作りを始めている現状が理解でき、グローバル化を進めた制作体制の確立のもとで、今後の大かがりなインフラ変革を含むパイプライン変革を高度な情報リテラシーとともに実現していく大きな流れが出て来たように思われました。


Certain significant challenges became clear during this seminar as problems common to all studios, mainly thought to be capable of being implemented in the infrastructure architecture on the server side, including such things as system architecture to enable speedy internal and external information sharing, the establishment of progress management systems which include asset management, a highly flexible infrastructure reconfiguration, and improvement in the speed of reconfiguring the pipeline itself, all against the background of production circumstances within video production, in which what is sought is production that is intent upon delivering within a limited period.
As participating artists or the working environments of those artists are diversified, and reflecting the reality that directorial responsibility for outsource studios is getting more problematic year by year, it seems as though there is a trend, against the background of the increase in clients who are diversifying things like video broadcast, toward the emergence of extraordinarily high-level challenges in things like fortification, flexible innovation, and achievement of coordination for such things as speedy and accurate schedule management, establishment of progress management systems, flexible changes in production plans corresponding to changes in phases of production themselves, and creation of systems for recalculating budgets, all while also incorporating expressive methods from hand-drawn animation.



However, many participating studios having grasped the present situation, the current circumstances in which they have begun to create systems aimed toward innovation are understandable, and it seems as though a significant inclination has appeared to continue to actualize pipeline innovation, including forthcoming large-scale infrastructure innovation, together with high-level information literacy, on the basis of the establishment of production systems which push forward globalization.


■多様なセミナーの形態とディスカッションの場の必要性
■The Need for Diverse Seminar Forms and Discussion Spaces

今回の会合「映像制作パイプラインとアーティストのテクニック」にはじまらず、様々なスタジオによる自社の主導でのセミナー企画や開催の必要性が、今回の会合からは浮き彫りになって来たように思われました。
その背景には、モデレーター達自身のカバー出来る知識の範囲では到底収まらない課題の大きさという現状もあり、そこに加えて、各スタジオの多様な文化を今回のようなひとつのセミナー内でディスカッションしていくと発展性が阻害されてしまうのではないか、各スタジオが各スタジオで自社にあったセミナー形態を模索し運営していくことで、多様な文化の育成とスタジオの個性発揮の機会を得ていくことができるのではないかという考えのもと、モデレーターとしては限られた知識でのセミナー企画がそろそろ限界に来ているのではないかとうことも感じられる会合となりました。




Apart from this "Film Production Pipelines and Artist Techniques" seminar, the necessity for diverse studios to plan and hold seminars under their own aegis seems to have been thrown into stark relief during this seminar.
The context of this is that, in the present situation, there are challenges so large that they can by no means be encompassed within the scope of knowledge which the moderators ourselves are capable of covering, and in addition to this, we fear that possibilities for development may be inhibited if discussions of the varied cultures of each of the studios are carried out in a single seminar like this one, so that, on the basis of the idea that, in the course of each studio exploring seminar forms best suited to itself, it might be possible to gain opportunities to foster diverse cultures and manifest the individuality of studios, we as moderators also began, at this seminar, to feel that a limit had finally been reached in seminars planned on the basis of limited knowledge.




■手描きアニメーションスタイルとCGでの制作(制作の視点から)
■Hand-Drawn Animation Style and Production in CG (from a production perspective)

会合中も会合後も、手描きアニメーションスタイルの効率化に関する様々なディスカッションが、セミナー内やモデレーター達への意見交換として展開が続くこととなっております。
そこでは、今までさほどデジタル化を進める必要がなく旧来のままであった工程の見直しから、それらの工程の良さを「手描き」の視点で長所としてどのようにセルルックCGとして持ち込んでいくか、など、多くの提案を頂いているのが現状です。
会合内でも各社での原図作成の工夫について紹介がありましたが、セルルックCG制作が一般的なCG映像制作と比べ工程が増えてしまったり、パイプラインシステムが複雑になってしまうことの原因を冷静に考えていく傾向も強く、個々の工程の効率化という視点ではなく、ワークフロー全体を通した効率化ということをキーワードとして、今後の変革を模索する傾向を強めているように思われました。
例えば、色彩設計においてはカラーパレットという色見本の形式で、そのシーンにおけるキャラクターの塗りや線の色を決めていくといった工程としてありますが、色彩設計のスタッフが色の変更作業をベタ塗りで行いやすいよう、あえてアンチエイリアスがかかっていない状態の画像をすべてのアセットごとに準備し、それら塗りの部分とパレット番号を紐づけ、パレットの色変更が完了した後に、各シーンごとに変更されたパレットを適用してレンダリングを行なっていくようなワークフローを組み込む必要があり、多くのパレットデータを管理して運用していく必要が出ていくといえます。
そこに加えて、作画においてはアニメーターはタイムシートと呼ばれる各セルコマのタイミング(アニメーションのタイミングを支持したキーフレーム)が指示された演出情報が必要となることが一般的で、タイムシートがワークフロー上存在しないCG制作のフローでは、どのように作画アニメーターにアニメーションのタイミングを伝達していくかなどが課題となっています。
それらの個別の課題をどう効率化していくかももちろん重要と思われますが、今回気づいたことのひとつとして、ワークフロー全体を円滑に進めていく対話性の高いサーバーサイドでの進捗管理システムをアニメ制作に合った形で模索していくことが目下最大の重要性を帯びている課題ではないか、モデレーター達は今回の会合を通してまずはその方向での課題解決を模索していくべきでは?と考え始めた次第です。




Both during and after the seminar, various discussions related to optimizing hand-drawn animation styles have continued to develop, both within the seminar and in the form of exchanges of opinions with the moderators. Beginning with a reexamination of phases of production which have heretofore not seemed to require much digitization, but rather could remain as they had traditionally been, the present situation is that we have received a large number of proposals regarding how, treating the advantages of those phases of production as strengths from a "hand-drawn" point of view, these can be incorporated into cel-look CG.
During the seminar, there were also explanations of the strategies used at a number of studios for creation of genzu, and it seems to us that there is a strong tendency toward thinking rationally about the reasons why, compared to normal CG, cel-look CG can involve an increase in the phases of production and why the pipeline system becomes more complex, and that they are strengthening their tendency toward exploring future innovation, making optimization through the workflow their key concept, rather than working from the point of view of optimizing each separate phase of production.
For example, during color design, there is a phase of production in which the fill and line colors of the characters in a given scene are determined in a color sample format called a color palette, and to make it easier for color design staff to change colors using simple painting, it can be said that it becomes necessary to institute a workflow in which, for each asset, images are actually prepared without antialiasing applied, and the fill areas and palette numbers for each are linked, so that once color changes for the palette are complete, the palette is applied to each scene and rendered; and it can also be said that it becomes necessary to proceed with operations while managing large amounts of color palette data.
In addition to this, for 2D drawings, animators normally require the time sheet, which is the direction information indicating the timing of each cel frame (the key frames that indicate the timing of the animation), but in the CG production workflow, in which the time sheet does not exist, one challenge is how to convey the animation timing to the 2D-drawing animators.
Of course it is crucial to consider how to optimize each of these challenges as well, but one thing that we realized this time was that the challenge that is of greatest importance at present may be the exploration, in a form suitable for animation production, of a server-side progress management system with high interactivity that allows the workflow to proceed uninterruptedly; and through this seminar, the moderators began to think that solutions to issues in this connection should be explored first.




■手描きアニメーションスタイルとCGでの制作(システムの視点から)
■Hand-Drawn Animation Style and Production in CG (from a systems perspective)

大規模なアセットの柔軟な取りまわしと高い情報リテラシーでのシステム設計構築と運営が次第に欠かせなくなって行くCG系スタジオに比べ、手描きアニメやセルルックCG主体のスタジオとは、システム構築や運営面での感覚が大きく違うのが現状であると思われます。しかしながら、今回の会合では手描きアニメやセルルックCG主体のスタジオが急速に高い情報リテラシーでのシステム構築と運用へと舵を取り始めた現状が認識でき、会合後も積極的なそれらの知見の獲得のための資料などの要望も多いことから、今後は大きく変化が生じていくのではないか、そのように今回の会合からは思われました。

扱うデータ量がまだまだ小さく、工程ごとに会社間を横断するような制作体制がまだ手描きアニメ中心の制作を支えるインフラでは見受けられますが、今回の会合では、中長期的に海外大型案件でも通用するインフラ構築という視点に立って、多くのスタジオが融和の姿勢を強く見せはじめ、連携性と個性の確立を目指せるような業界での変革に関して様々な意見が交わされました。
ここで重要なのは、方向性を固めることでは全くなく、あくまでもそのような意識をもって、各社が独自性の高いワークフローやスキルの構築を目指していく意識のもと、国内外の多くのスタジオとの連携性も同時に考えていける会合企画が必要ではないか、そのような観点を今回の参加スタジオ内で共有出来たことが重要なのではないか、そのようにモデレーター達は考えております。その背景には、社内でシステムを構築し続けていくことに関する意義を各社が持ち始めたことともいえ、過去会合の大きな流れを改めて意識する機会に恵まれたようにモデレーター達は考えております。



社内でシステムを構築し続けていくこと
https://a-film-production-technique-seminar.com/fppat/materials/ppi_phones_build_inhouse_system/index.html


It seems as though the present situation is that, compared to CG-related studios, where flexible, large-scale asset management and system design architecture and operation with high information literacy are gradually becoming indispensable, the feel of things in system architecture or the operations side at studios specializing in hand-drawn anime or cel-look CG is quite different. However, at this seminar, we recognized that the present situation is that studios specializing in hand-drawn animation or cel-look CG have begun to steer sharply toward system architecture and operation with high information literacy, and judging from the fact that, after the seminar as well, there were a great number of proactive requests for reference materials to gain such knowhow, we have become convinced that there are likely to be great changes in future.
In the infrastructure that supports production centered around hand-drawn anime, it is still possible to perceive production systems that traverse between studios phase by phase, the amount of data not being terribly large; but at this seminar it was seen that, from the point of view of infrastructure architecture that can be made use of even with large-scale overseas projects in the mid- to long-term, a large number of studios have begun to show strongly reconciliatory attitudes, and a number of opinions were expressed regarding innovation within the sort of industry in which it is possible to aim to establish both coordination and individuality.
What is important here, in the opinions of the moderators, is decidedly not to firmly establish a direction in which to go, but rather simply to hold such a mindset, and on the basis of an awareness at each studio of aiming to establish a highly individualized workflow and skills, that there may be a need for a seminar plan which also concurrently takes into account coordination with a large number of studios both domestic and international, and that what was important this time was that we were able to share this point of view among the participating studios.



Continue to build in-house system
https://a-film-production-technique-seminar.com/fppat/materials/ppi_phones_build_inhouse_system/index.html


■会合から見えて来たあるひとつのパイプラインとインフラ
■One Pipeline and Infrastructure Suggested by the Seminar Session

この章からは、モデレーター達により会合でのディスカッションをまとめをすすめていく意味で、会合中見えて来た"共通的"な枠組みと思われたワークフローを想定し、そこに対するパイプラインのデザインと、それを支える構成を、今後の会合時のディスカッションへのたたき台として考えたいと思います。この課題は、会合中に参加各社間での共通の課題として意見が強く出た部分であり、今回の会合で得られた知見をまとめる意味で書き進めたいと思います。
しかしながら、現状の我々が知る範囲の技術では達成の難度が高いと思われるインフラの構成要素に関しては、このような仕組みが達成されれば可能ではないのか?という想像のもと、いささか想像の範囲を越え出ないものではあると思いますが、今後の会合時のディスカッションに役立てたい意図で技術上の課題を中心にとりまとめたいと思いますので、読まれる際はこれらの点を留意して読み進めていただけましたら幸いです。


Beginning in this section, as a way for the moderators to bring together what was covered in the seminar discussions, we should like to imagine and examine a workflow, suggested by what was seen during the seminar session, which might be thought of as a "shared" framework, as well as a corresponding pipeline design and a structure to support this, as a springboard for discussion at future seminars. During the seminar, there were times when opinions were strongly expressed that this challenge is seen as a shared challenge between the participating studios, so we should like to write this up as a way of bringing together expertise acquired during the seminar.
However, regarding elements of infrastructure architecture whose implementation would have a high level of difficulty within current technological limits as we understand them, on the basis of imagining that such things would become possible if certain systems were achieved, some of the following must remain within the bounds of conjecture; but, with the intention of creating something useful for discussion during seminars hereafter, we should like to bring these ideas together with a focus on technological challenges, so please bear this in mind as you read the following.

■会合から見えて来たあるひとつのパイプラインとインフラ(インフラ構築面の基本方針)
■One pipeline and infrastructure that was visible from seminar (Basic policy of infrastructure building)

迅速な対話性と円滑な進捗管理の達成、そこに加えて柔軟な計算資源の操作性という点が、今回の会合を総合して得られた課題ではないかと思われます。
つまり、サーバーサイドでの計算クラスター構成により、セルルック向けのレンダーファームのみならず、プリプロ工程の様々なプロシージャーを稼働させられる仕組み作りが欠かせず、そこに加えて制作上の全ての情報を一元管理し社内や連携各社と柔軟に情報を(権限管理付きで)共有出来るWebシステムの構築が欠かせないのではないかと思われます。



そこでは各社間で互換性高いアセットデータやシーングラフ管理が要求され、MaterialXやUSDを主軸としたアセットデータやシーングラフ管理、ルック開発やマテリアル管理のためのオープンなフォーマットを元にしたアセット管理とアセットをアーカイブしていくための仕組み作りが中心になるのではないかと思われます。そこに加えて、会合中に話題となった2Dと3Dとのアセットの行き来のしやすさを実現しつつ、例えばMaterialXを手描き用ドローイングツール向けのマテリアル管理にも利用することであったり、旧来は枝分かれした形で発展したワークフローをクロスオーバーしていくことを支援していけるような管理手法、運用手法の構築が重要になっていくことも重要ではないかと思います。


©︎TSUTOMU NIHEI・KODANSHA/KOS PRODUCTION COMMITTEE


Achievement of smooth progress management and speedy interactivity, as well as consideration of manipulability of flexible calculational resources, might be comprehensively considered to be the challenges raised at this seminar.
In other words, depending on the calculational cluster structure on the server side, we feel that it may be indispensable to build, not only a render farm suitable for the Cel-look, but also a system that can drive various procedures in the pre-production phase, as well as Web system architecture that can centrally manage all production-related information and can flexibly share information (with rights management included) internally or with related studios.



At this point, things like highly compatible asset data and scene graph management between studios are in demand, and we think that what may take on central importance is the creation of a system to do things like asset data or scene graph management relying mainly on MaterialX or USD, asset management which is based on an open format for purposes of look development or materials management, or continual archiving of assets. In addition, what may also be important, while actualizing the easy transfer of assets between 2D and 3D, which was discussed during the seminar, is, for example, being able to use MaterialX for materials management suitable for hand-drawing tools, and the fact that the building of operational techniques and management techniques capable of continuing to support the ongoing crossing-over of a workflow that, in the past, developed in a branched-out form, will become more important.


©︎TSUTOMU NIHEI・KODANSHA/KOS PRODUCTION COMMITTEE


■会合から見えて来たあるひとつのパイプラインとインフラ(手描きでのワークフロー面)
■One Pipeline and Infrastructure Suggested by the Seminar Session (regarding hand-drawn workflow)

まず、順に「現在の手描きアニメでの背景美術制作フロー」と「セルルックCGでの背景美術制作フロー」の概観を説明しつつ、ここでは手描きでのワークフローを生かしていくにはという視点で、会合中の意見をまとめるかたちでパイプラインとワークフロー、それを支えるインフラに関して説明して行きたいと思います。



上記は現在の手描きアニメでの背景美術制作フローの典型的な一例となりますが、セルルックCGおける背景美術の制作ワークフローも手描きに近しいとなっており、レイアウト用のラフな3Dモデルを作成する工程と、それらを配置後3Dカメラによるカメラワークを付けたものから原図を作成する工程が加わった上で、背景美術のスタッフがドローイングを行なっていくことが一例となります。つまり、基本的には手描きアニメでの背景美術制作フローを踏襲しつつも、現在はそこにCGを導入可能なところはCGが工程として加わり始めている段階であると思われます。



会合中に紹介されていた事例からは、手描きアニメにおける原図作成においては、近年では手描きによる原図作成だけではなくセルルックCGと同様にレイアウト用にモデルを用意して原図を作成するフローも増えつつあるとのことでした。つまり、場合によってはモデルにマッピングするためのテクスチャをドローイングし、3DCGの工程ではそのテクスチャをモデルなどにマッピングしてそのままレンダリングするといった手法を取ることも年々増えてきているということになります。
これらの意味することは、アニメの制作にセルルックCGが入っていくことによって、典型的なCGスタジオでの工程とかなり近いワークフローとなりつつあるという現状が理解できました。
参加したスタジオの中では、原図作成用に用意する3Dのモデルデータは手描きアニメでもセルルックCGにおいても、背景美術のスタッフへ指示が伝わりやすいようある程度のディテールを持ったCGデータとなっているとのことで、会合中もCG制作サイドからは、3Dののモデルデータに直接ドローイングすることで、カメラワークに自由度を今後更にも持たせていきたいなどの意見も出ており、よりCGスタジオでのワークフローと感覚が近づいて来ているようにも思われました。
また発展的な意見としては、3Dモデルデータに背景美術スタッフが直接ドローイングを行えるようなワークフローを構築することにより、手描きアニメスタイルでの背景美術を3Dアセットとして作成することで、原図工程を廃止することも可能となり、同時に3Dでの自由度の高いカメラワークも獲得できるのではないか、など、積極的な提案も会合中では意見交換が進んでおり、既存のワークフローでのアーティストの待機時間の軽減などを意識し、より同時性の高い制作(つまりコンカレントなパイプラインへの変革)環境構築が重要ではないか、スケジュール通り円滑に制作を進める意味でも、そのような体制作りとそれを支えるインフラ構築が重要ではないか、そのような意見も強く出ておりました。勿論これらに対して、CG系スタジオからはUSDやMaterialXがそのようなシステム構築には重要であるとの指摘が出ており、会合中では双方の領域のスタジオの活発な意見交換が生じていたように思われました。



更に進んだ見解としては、3D背景美術をプリプロダクションといった設計段階から導入していくことへの提案も行われておりました。絵コンテやストーリーリールの段階で3D背景アセットを積極的に活用し、3Dでカメラワークを確認しながら作業を行なっていける可能性があるとのことで、試行錯誤のためのイテレーションを行いやすくしたり、3D背景美術を段階的にブラッシュアップしていくことにより、より効率的なワークフローを実現できるのではないかと、そういった発展性の示唆として示されておりました。同時に一方で、背景美術のスタッフが今まで慣れ親しんだワークフローやツールから移行していくためのサポートも同時に必要になってくるとの指摘も出ておりました。ドローイングのスタッフが3Dのアセットを扱いやすくするためのパイプラインの構築やデータ量が肥大化する際のインフラ面での対応などをエンジニアリングに慣れていないスタッフでは難しい事実を再確認し、双方の手描きアニメやセルルックCG主体でのスタジオとCG系スタジオの更なる意見交換も重要との意見も出ておりました。


First, in the following overview of "Present Production Flow for Background Matte Paintings in Hand-Drawn Anime" and then "Production Flow for Background Matte Paintings in Cel-look CG", we should also like to provide an explanation regarding a pipeline and workflow, as well as the infrastructure to support these things, from the point of view of how the hand-drawn workflow can be effectively incorporated, as a way of drawing together opinions presented during the seminar.



The above is a typical example of the production flow for background matte paintings in hand-drawn animation, but the production workflow for background matte paintings in cel-look CG is not dissimilar, and one example of this would be to add phases in which rough 3D models for use in layout are created, these are positioned, and camera work using a 3D camera is added, from which a genzu is created; following this, the background matte painting staff proceeds with drawing. In other words, even as this fundamentally emulates the production flow for background matte painting in hand-drawn animation, in areas in which it is possible at present to adopt CG, we believe we have reached a stage at which CG phases have begun to be added.



As we learned from examples presented during the seminar, in recent years genzu production within hand-drawn animation has not only involved hand-drawn genzu production; a flow is also on the rise in which models for layout work are prepared and genzu are created, in much the same way as in cel-look CG. In other words, depending on the circumstance, adoption of techniques such as drawing a texture to be mapped to a model and, in the 3DCG phase, mapping this texture to the model and rendering it in that form, is also increasing year by year.
What these things mean is that it can be understood that, in the present situation, as cel-look CG is introduced to animation production, this is causing the workflow to increasingly resemble that of a typical CG studio.
Among the participating studios, in order to make instructions easier to understand for background matte painting staff in both hand-drawn animation and cel-look CG, 3D model data prepared for purposes of genzu creation will have a certain level of detail, and during the seminar, opinions were also expressed on the CG production side such as the wish to give greater freedom for camera work later on by drawing directly onto the 3D model data, so that it seems to us that the workflow and feel of things is drawing nearer to that of a CG studio.
Among the proactive suggestions shared during exchanges of opinion at the seminar, another developmental idea was raised: by building a workflow that will allow background matte painting staff to draw directly onto 3D model data, thus allowing hand-drawn anime-style background matte paintings to be created as 3D assets, it may become possible both to eliminate the genzu phase of production, and to concurrently grant a greater degree of freedom to camera work; and opinions were also strongly expressed that it is important to be aware of things like reducing idle time for artists during existing workflows, as well as to create working environments that grant productions a higher degree of simultaneity (in other words, innovation toward a concurrent pipeline), and that this sort of systems creation and infrastructure architecture to support it may also be important, in the additional sense of moving projects forward smoothly and on schedule. Of course, in response to this, the CG-related studios pointed out that things like USD or MaterialX are important for the building of such systems, and we believe that a lively exchange of opinions occurred during the seminar within the respective domains of both kinds of studio.



Looking even further, there were proposals for the adoption of 3D background matte painting beginning in the design stage, which is to say, during pre-production. Possibilities were implied such as the idea that work might proceed at the storyboard or story-reel stage making proactive use of 3D background assets and checking the camera work in 3D, making it easier to conduct the iteration needed for trial-and-error work and, by incrementally brushing up 3D background matte paintings, thereby implementing a more efficient workflow. However, at the same time it was also pointed out that support will concurrently be necessary for background matte painting staff to transition away from a workflow and tools to which they have become accustomed. The opinion was also expressed that a renewed exchange of opinions between both hand-drawn animation and mainly cel-look CG studios on the one hand, and CG-style studios on the other, will be crucial, recognizing anew the fact that things like pipeline architecture making it easier for drawing staff to work with 3D assets or handling on the infrastructure side for a marked increase in data size can be difficult for staff who are unfamiliar with engineering.


■会合から見えて来たあるひとつのパイプラインとインフラ(サーバーサイドででのプロシージャル面)
■One Pipeline and Infrastructure Suggested by the Seminar Session (regarding procedurals on the server side)

高い情報リテラシーが運営上要求されるものの、会合中はサーバーサイドでの制作インフラ構築が重要になるとの見方が強くなったため、過去会合での意見を反映するかたちでサーバーサイドででのプロシージャル面の話題が自然と活気を帯びるかたちとなりました。

サーバーサイドでのインフラ構築の基礎的事柄は、関連資料ページの最近の資料を中心に読み進めていただければと思います。

関連資料ページ
https://a-film-production-technique-seminar.com/fppat/fppat_materials.html




上記は過去会合での解説に用いた概念図としてのサーバーサイドでのインフラ構築のイメージとなります。
理想的なユースケースとしましては、ドローイングも含めたそれらのワークフローがサーバーサイドで実行され、Webアプリケーションのような形態でUIやツール完備としてまとめていくと、サーバーサイドでのアセットマネジメントや新たなワークフローとしてさらなる発展をしていけるのではないかというのが、会合中のディスカッションから必要になると思われたインフラとなります。

Webサービスなど他に必要になるといった点は前項までに詳細に説明させて頂きました通りとなりますが、制作だけではなく、プリプロダクションなどの工程は、その性質上、関わるスタッフが別々のロケーションで作業を進めていくといった体制も良く見られることから、Webアプリケーションをベースとしたブラウザインターフェイスでのシステムは、ロケーションフリーな環境を提供していける可能性もあり、プリプロダクションにおいては非常に有効なシステムであるとも思われます。
これまでプリプロダクションの作業は、スタンドアローンのマシン内での作業環境が一般的であったことから言えることとして、敬遠されがちな計算負荷の高い作業はWebアプリケーション経由でサーバーサイドでの処理として進めていくなど、アーティストのマシンはあくまでも創作性の高い作業に負荷を費やし、あくまでも重い処理はバックグラウンドで計算クラスターが稼働して処理を行なっていく、そのようなスタイルも視野に入っていくように思われます。
サーバーサイドでのインフラの活用は簡単とは決して思いませんが、柔軟性の高さと迅速性を同時に考えていくにあたって、重要なアプローチではないかとモデレーター達は考えております。


The point of view was reinforced during the seminar that server-side production infrastructure architecture, although its operation demands high information literacy, is nevertheless important, so that, as a way of incorporating opinions from past seminars, a lively debate arose organically around procedural-related matters on the server side.

For the fundamentals of server-side infrastructure architecture, please refer principally to the most recent reference documents on the related reference materials page.

Related reference materials page:
https://a-film-production-technique-seminar.com/fppat/fppat_materials.html




The above is a visualization of server-side infrastructure architecture presented as a conceptual chart used in an explanation at a prior seminar.
In an ideal user case, if these forms of workflow, including drawing, were executed on the server side, and then administered in a form similar to a Web application furnished with a UI and tools, then asset management on the server side, or an infrastructure that may potentially be developed even further as a new workflow, would be something that we began to think necessary based on discussions during the seminar.

Things such as Web services, which are also needed elsewhere, would be as detailed up through the prior section, but in phases such as pre-production, as well as production, due in part to the fact that, as a result of its characteristics, a system in which the staff involved proceed with work at disparate locations is often seen, a system with a browser interface that is based on Web applications could also possibly provide a location-free environment, which could conceivably be an extraordinarily effective system for pre-production.
It can be said that, in pre-production work until now, there has been a tendency to shy away from work with a high computational load, due in part to the fact that such work has typically been done within a working environment located on a stand-alone machine; but an approach in which, by doing such processing on e.g. the server side via Web applications, the artist's machine can expend computational resources only on highly creative work, while processing which is simply heavy can be processed on a computational cluster running in the background, is also likely to come into view. While the moderators do not by any means consider the utilization of server-side infrastructure to be a simple task, in consideration of both its high flexibility and speed, we still consider this an important approach.


■まとめ
■Summary

想定以上に、技術面に対して意欲的な変革の意識を持たれている手描きアニメ制作やセルルックCGを主に扱うスタジオ各社の現状をお伺いし、高度な情報リテラシーとサーバーサイドでの展望なども話題としてでてきたなかで、非常に有意義な会合になったようにモデレーター達は考えております。
最後に記載させて頂きました「会合から見えて来たあるひとつのパイプラインとインフラ」の項目は、あくまで今後の変革のたたき台程度に会合中のとりまとめの意味での記載させていただいておりますが、これらのアイデアにとらわれることなく、様々な工夫が今後展開されていくことと思われます。


Even more than anticipated, we learned of the present situation at various studios, dealing mainly with hand-drawn animation production or cel-look CG, intent upon ambitious innovation regarding technical matters; and in the course of such topics being raised as high-level information literacy and the outlook on the server side, the moderators came to feel that this was an extraordinarily meaningful seminar.
The items in the "One Pipeline and Infrastructure Suggested by the Seminar Session", with which we have concluded this report, have only been given here as a springboard for innovation hereafter, as a way of bringing together things raised during the seminar; but we believe various strategies, not only limited to these ideas, will continue to be developed.